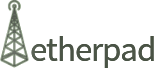 Collaborative editing in really real-time
Etherpad allows you to edit documents collaboratively in real-time directly in the web browser. Write articles, press releases, to-do lists, etc. together with your friends, fellow students or colleagues, all working on the same document at the same time.
Project homepage: http://etherpad.org
A collaborative web spreadsheet.
Your data is saved on the web, and people can edit the same document at the same time. Everybody's changes are instantly reflected on all screens.
Work together on inventories, survey forms, list management, brainstorming sessions and more!
Project Homepage: https://ethercalc.net Source code
Etherpad Feature highlights:
Color highlighting
All the changes in the text are marked with authorship color assigned to each user in the pad.
Text styling
Bold, italic, paragraphs, lists, bullet point lists and so on.
Chat
Online chat for all users working on the text.
History
Review the changes thought out the time with a time slider.
Import / export pads
Import and export pads in various formats (plain-text, HTML, Etherpad, Mediawiki).
Save revisions
Save certain version of your pad.
Bookmarks
Etherpad plugin for users to save a list of bookmarks of their visited pads locally in the browser's local storage.
Comments
A sidebar to add comments that are linked directly to the text.