E-mail
Disroot provides secure email accounts for your desktop client or via a web interface. The communication between you and the mail server is encrypted with SSL, providing as much privacy as possible. Furthermore, all the emails being sent out from our server are encrypted as well (TLS) if the recipients email server supports it. This means that emails are no longer sent as traditional "postcard", but are actually put in an "envelope".
Nevertheless, we encourage you to always be cautious when using email communication, and to make use of GPG encryption to ensure your correspondence is safer.
IMAP:
disroot.org

|

SSL

Port

993

| Authentication:

Normal Password
SMTP:
disroot.org

|

STARTTLS

Port

587

| Authentication:

Normal Password
SMTPS:
disroot.org

|

TLS

Port

465

| Authentication:

Normal Password
POP:
disroot.org

|

SSL

Port

995

| Authentication:

Normal Password
---
Mailbox size limit: 1GB
Attachement size limit: 50MB
What is encryption
Encryption is when you change data with a special encoding process so that the data becomes unrecognizable (it's encrypted). You can then apply a special decoding process and you will get the original data back. By keeping the decoding process a secret, nobody else can recover the original data from the encrypted data.
https://www.youtube.com/watch?v=E5FEqGYLL0o
Email Aliases
and Domain Linking
Aliases are now available for our regular supporters. By regular supporters we think of those who contribute the equivalent of at least one cup of coffee a month. It is not that we are promoting coffee, on the contrary - coffee is actually quite the symbol for exploitation and inequality so we thought that it is a good way to let people measure themselves how much they can give. We found this list of coffee cup prices around the world, it might not be very accurate, but it gives a good indication of the different fares. Please take time to consider your contribution. If you can 'buy' us one cup of Rio De Janeiro coffee a month that's OK, but If you can afford a Double Decaf Soy Frappuccino With An Extra Shot And Cream a month, then you can really help us keep the Disroot platform running and make sure it is available for free for other people with less means.
To request aliases you need to fill in this form.
If you would like to use your own domain use this form.
If you already donated to Disroot in the past and would still like to get aliases please get in contact with us.
For information on howto to setup your new email aliases check our howto section
Add storage to your mailbox
It is possible to extend your E-mail storage with up to 10 GB for the cost of 0.15 euro per GB per month.
To request extra storage you need to fill in this form.

Webmail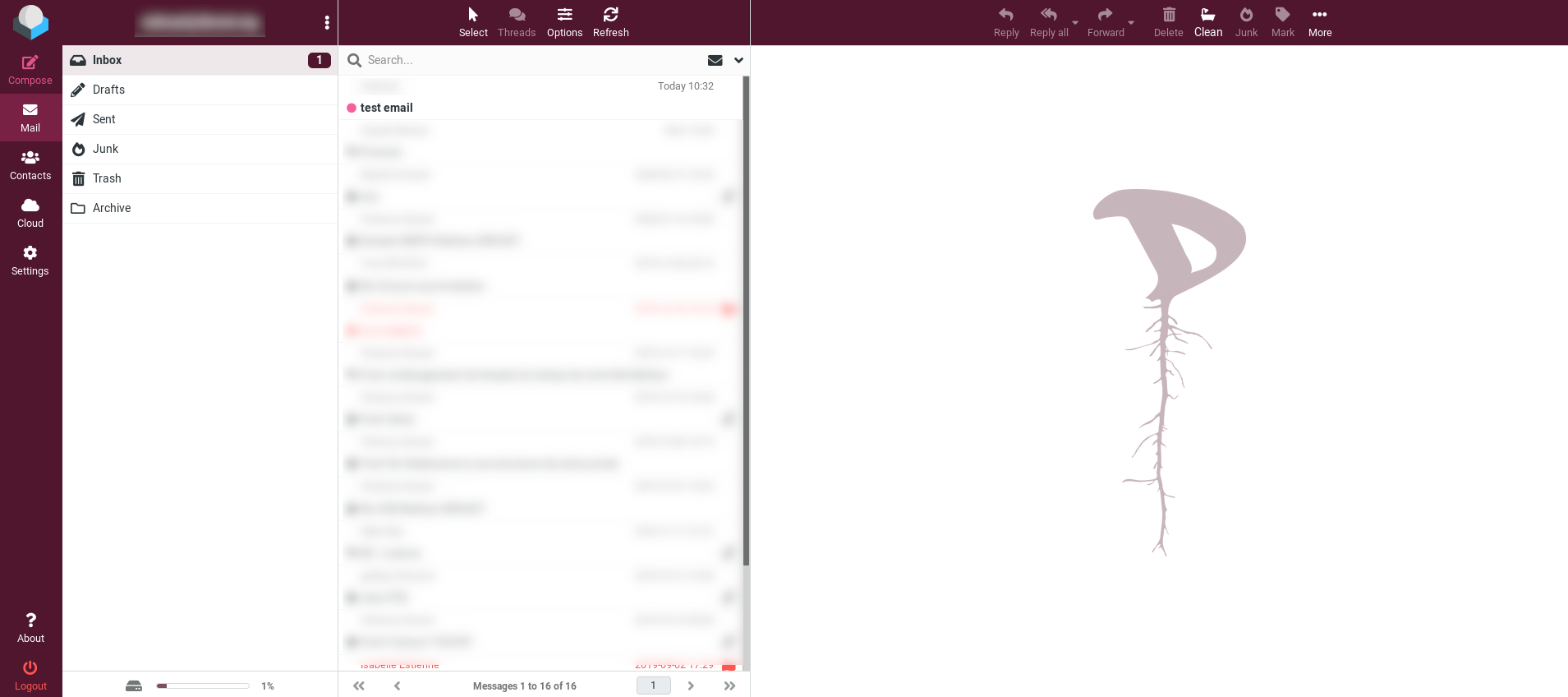 RainLoop is a modern approach to webmail. It's simple, fast and provides most of the features one could expect from web-mail:
Themes: Select your background picture.
Threads: Display conversations in a threaded mode.
Translations: The interface is being translated to many languages
Filters: Set up rules to automatically move or copy email to specific folders, forward or reject emails.
Folders: Manage your folders (add, remove, or hide).
GPG Encryption: The **RainLoop** web-client offers built in encryption option.
NOTE: Please be aware that this is a server side encryption, which means you don't have control on your secret key. This is not as safe as using desktop email client, such as Thunderbird, with local encryption. But then again, it is better than not using any encryption at all...
The best email experience is through somewhat forgotten native email clients. There is plenty of E-mail clients for desktop or mobile devices, using those is usually much more convenient than login in to the web-client every time. Below we mention just a few, but similar configuration applies to most of email clients out there:
Desktop: Thunderbird (most popular open source email client by Mozilla).
Android: K9 Mail.
SailfishOS Mail - Default email client for SailfishOS.
Check our Howto page dedicated to all email clients.
Check the settings on top of this page to set up your Disroot email on your device. These settings are standard information that tells your email client how to reach Disroot's email server.
Mail Clients